Covid-19 Operating Changes
Orders are still being shipped, two days per week. Ground only.
Phone lines have been routed to employees at home. We highly encourage customers to order on our web site and email us at [email protected] with questions.
If you get a busy signal, please try later. Thanks for your patience.
You Can Also Live Chat With Us or Go to facebook.com/mudskippermotors to message us
Thank you for your continued business during this unprecedented time
Details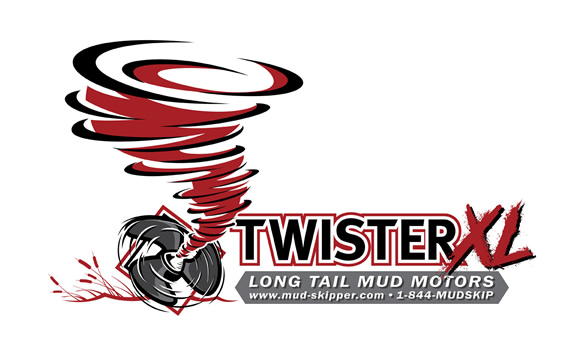 NEW FEATURE - COMPLETELY REDESIGNED TWIST THROTTLE CONTROL
TWISTER! A FORCE TO BE RECKONED WITH!
TWISTER! THE SHORT LONGTAIL!
The Twister uses a tough multi-core flexible inner shaft so the prop shaft is curved, presenting the propeller at the correct angle and reducing the overall length considerably. The shaft on this unit is only 50" long, half the length of the Longtail design. The curve in the Twister-tail also allows the engine to sit lower in the boat, making the center of gravity lower and the boat more stable.
Unique steering handle with 90 degree adjustment.
Right and Left Hand Tiller Option
Reinforced Clamp for Transom Mounting
Easily detachable tiller handle quickly connects to either side of the frame providing both left hand and right hand steering.
9.5" Stainless Propeller
Cantilever Style Throttle Lever w/ Ergonomic Grip
Stop Set for Prop Trim Adjustment.
Engine Base Hole Pattern - 7-11/16" x 3-3/4"
PTO Engine Bolt Hole Pattern - 5" Diameter (holes are 3.5" from each other in a square)
Weight 54 lbs
Overall length 94"
Length from transom to end of throttle control 45"
Pre-tapped for M6 grease fittings (grease fittings included)
Includes push button/tethered safety kill switch
The Twister XL Long Tail includes a 1 year warranty.
Twister FAQ:
Q) How strong is the flex shaft?
A) The Twister's flex shaft is a braided STEEL cable (aka a Bowden cable) that is 18mm thick. (almost 1"). We've thoroughly tested the Twister to ensure that our customers will get long life out of the shaft. In the event that a problem with the cable arises, we have 100's of replacment cables available.
Q) Does the shaft require lubrication?
A) Yes. There are TWO spots on the outer housing that are tapped to hold an M6 grease fitting. Fill with marine grease until full (approx 1-2 oz of grease)

Q) Is there a warranty on the Twister?
A) Yes, ONE full year from day of sale.
Q) Can I return my Twister for a refund?
A) A full refund (excluding original shipping cost) will be given if the Twister XL is returned in new, unused condition and is still in its original wrapping within 14 days.
The Twister XL standalone base is $620 plus shipping. Please add the Mud-skipper 16hp Electric Start engine to your cart (Engine adds $320.00 to the total) and we will ship everything you need to get right on the water! The Twister also fits the following 1" Horizontal, Keyed Shaft Motors:
Harbor Freight 420cc 13hp Horizontal shaft gasoline engine

Honda G300-400, GX-240, 340, 390, 270

Honda 11hp GX340 models: GX340UT2QA2, GX340UT2QNE2


Honda 13hp GX390 models: GX390UT2QAA2, GX390UT1QNE2, GX390UT2QXC9 & DUCAR 13hp (which is a Honda GX390 clone)
CARROL STREAM COMPANY 11hp, 13hp, 16hp
Video Testimonials & Reviews (Upload a video of our products in use and get free propeller(s). Twisters get one free prop. Longtails get 3 free props. Video must have Mud-Skipper in title, must show kit in water, in action and must be at least one minute long.)
Video Testimonials & Reviews (Upload a video of our products in use and get free propeller(s). Twisters get one free prop. Longtails get 3 free props. Video must have Mud-Skipper in title, must show kit in water, in action and must be at least one minute long.)
1:14
0:58
0:41
1:10
1:01