Details
Mud-Skipper 13-16hp Surface Drive Assembly
1:1 Gear Ratio
Please check out our COMPARISON CHART to compare the new models, features, dimensions, prices etc.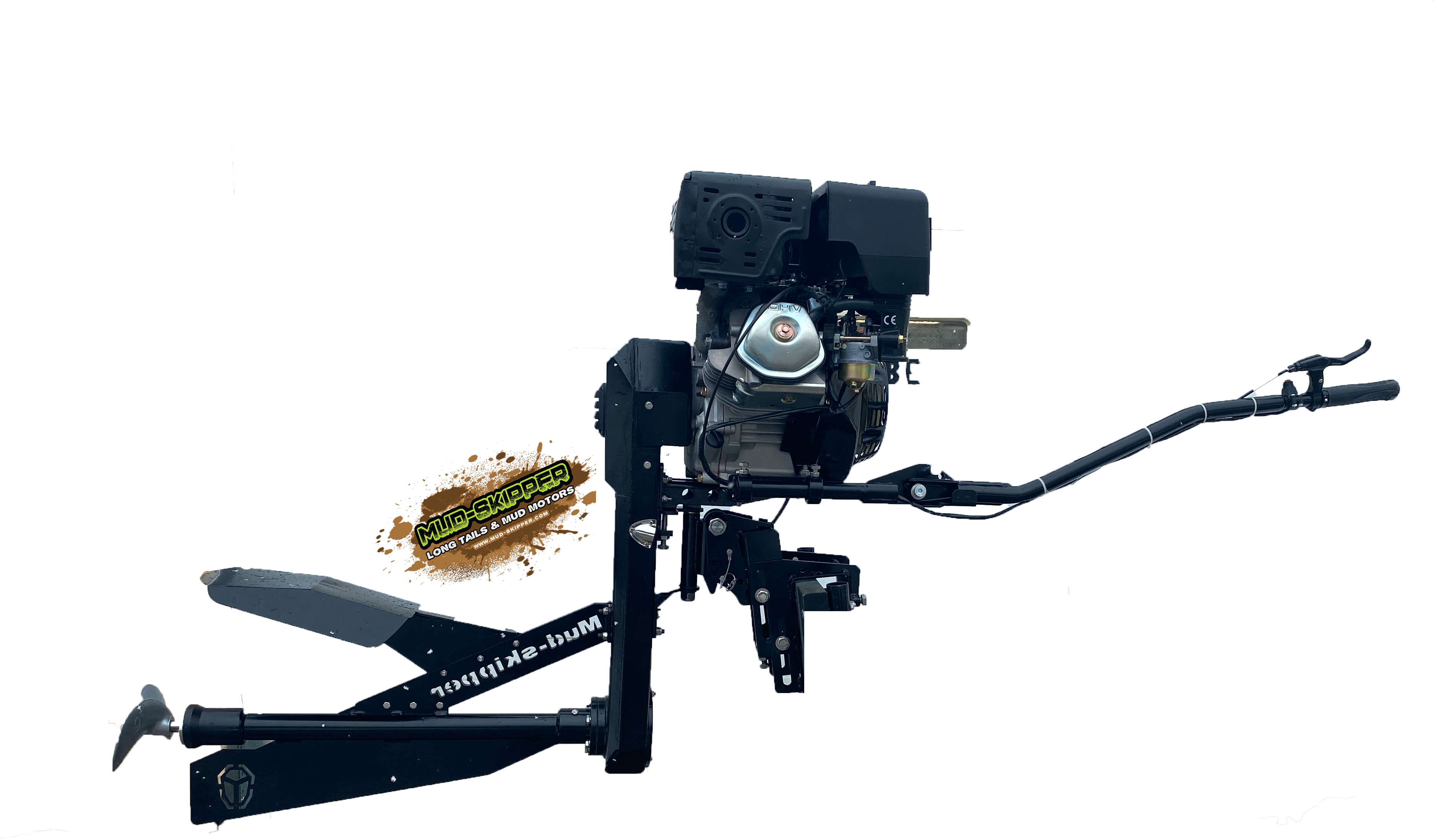 Includes the following features:
Fits 1" horizontal keyed shaft gasoline engines, like the Mud-Skipper 16hp electric start engine

Triple Strand Roller Chain

1 to 1 Gear Ratio

2 - Two Blade aluminum propellers - 7" & 7-1/2""

Kit Weight (without engine) - 96 lbs

Dimensions - 37"L x 14"W X 29"H

36" "Z" Style Foldable Tiller Handle

Suitable for Boats with 15-16" Transom

Height Adjustment - 4"

Locking Tilt Pin on Transom

Stainless Steel Screw and Shaft

Sealed Roller Bearings in Tail Assembly

Multiple Grease Points

Moveable Carrying Handle

Left and Right Hand Steering

Easily Adjust Height and Trim

Includes Engine Tachometer - Hour Meter

Safety Kill Switch with Push Button Stop

13-16hp Standard Kit Does Include a Centrifugal Clutch But Does NOT have Reverse

The Mud-Skipper 13-16hp Surface Drive base is $1449.00 plus shipping. Please add the Mud-skipper 16hp Electric Start engine to your cart (Engine adds $330.00 to the total) and we will ship everything you need to get right on the water! The kit also fits the following 1" Horizontal, Keyed Shaft Motors
The Harbor Freight 420cc Horizontal Output Shaft

Honda G300-400, 340, 390

Vanguard 16hp model 3054473079G1

Honda 11hp GX340 models: GX340UT2QA2, GX340UT2QNE2

Honda 13hp GX390 models: GX390UT2QAA2, GX390UT1QNE2, GX390UT2QXC9 & DUCAR 13hp (which is a Honda GX390 clone)

CARROL STREAM COMPANY 13hp, 16hp

Kit will NOT fit Mud-Skipper 9hp, Honda GX240, GX270 or Harbor Freight 8hp Engines
Frame, sub-frame, main body and housing of this unit includes a THREE year limited warranty against manufacturer defects from date of purchase. Propellers and electrical components are NOT warrantied.

Internal components such as; clutches, chains, belts, transmission shafts, bearings, oil seals, sprockets, gears and gear shafts will include a ONE year limited warranty from date of purchase.
The unit may be returned for a full refund within 14 days of receipt if in NEW and UNUSED and UNASSEMBLED condition and in original packaging. (Gasoline engines from Mud-skipper have a limited warranty for 90 days). Returns within 30 days of NEW, UNUSED and UNASSEMBLED products will incur a restocking fee. Returns are NOT accepted for used, tested or assembled kits.
Buyer is responsible for return shipping for any/all warranty claims. Buyer is responsible for all return shipping costs. Mud-Skipper® does not provide pre-paid return labels. Mud-Skipper® and Revolution Surface Drive® registered trademarks. Mud-Skipper reserves the right to deny warranty claims for any customization, modification, disassembly of components or poor/lack of maintenance.
Video Testimonials & Reviews (Upload a video of our products in use and get free propeller(s). Twisters get one free prop. Longtails get 3 free props. Video must have Mud-Skipper in title, must show kit in water, in action and must be at least one minute long.)
Video Testimonials & Reviews (Upload a video of our products in use and get free propeller(s). Twisters get one free prop. Longtails get 3 free props. Video must have Mud-Skipper in title, must show kit in water, in action and must be at least one minute long.)