Details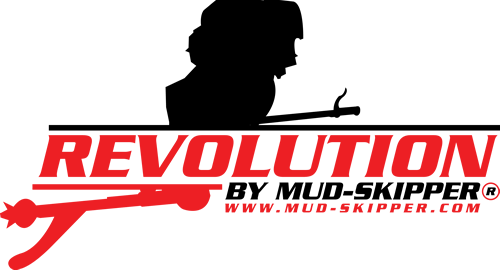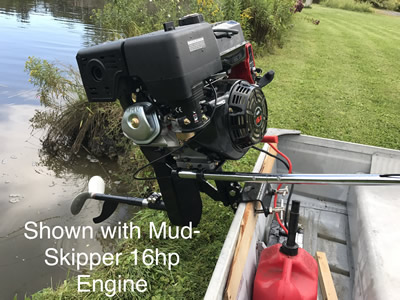 Introducing the Revolution Surface Drive by Mud-Skipper®

Revolution fits a HUGE range of engine sizes from 8hp all the way to 16hp. Customize your surface drive based on boat size, performance and cost!
NEW Features:
Centrifugal clutch (Now optional) Propeller now disengages when engine is idling. Makes turning, docking and use in tight spots MUCH easier!


Automatic chain tensioner sprocket

Unibody construction - solid 1 piece housing/easier to assemble

Gasket sealed - extremely low maintenance

More water resistant - 1 piece body better protects internal components

Adjustable engine base - slotted base holes make engine alingment/assembly simple

Delrin pivot point below engine base - low friction pivot makes turning smoother


Enhanced trim adjustment height - Trim bolt has greater range of adjustment

Larger transom height adjustment range - 14" to 20" transoms


Tiller handle powder coated black - less chrome!

No welding or fabrication required - just basic hand tools for assembly!
Triple strand roller chain. Triplex chains have 3 times the capacity of power transmission to that of a single chain.
Heavy duty transom mount with hardened "T" style wing bolts
Grease zerk pre-installed on base pivot post
Reinforced steel housing, powder coated for added durability
Trim adjustment setting bolt holds the prop in a pre-set spot that makes driving easier

Greaseless bushings in tail require minimal maintenance
3 aluminum propellers - Spare props also available!

Lever style, spring return throttle control
Tethered safety kill switch with push button off switch

Weighs 68lbs alone

Weighs 126lbs with Mud-Skipper® 9hp Engine
Weighs 141lbs with Mud-Skipper® 16hp Engine
REQUIREMENTS
Engine Base Hole Pattern - 7-11/16" x 3-3/4"

1" Horizontal, Keyed PTO Shaft (Shaft cannot be tapered or threaded)

5" Bolt Circle (Holes are 3.5" from each other in a square)
The Mud-skipper® Revolution Surface Drive kit is available for $1150.00 with no engine. You may select one of FOUR Mud-skipper® Electric Start Engines during the checkout; 9hp or 16hp,

Download The Installation Instructions
The unit has a one year warranty against manufacturer defects from date of purchase. Propellers and electrical components are NOT warrantied. Clutch and clutch components are no longer warrantied on engines above 18hp. Users that apply a clutch to engines above 18hp do so at their own risk. The unit may be returned for a full refund within 14 days of receipt if in NEW and UNUSED and UNASSEMBLED condition and in original packaging. (Gasoline engines from Mud-skipper have a limited warranty for 90 days). Buyer is responsible for return shipping for any/all warranty claims. Mud-Skipper® and Revolution Surface Drive® are registered trade marks. Mud-Skipper reserves the right to deny warranty claims for any customization, modification, disassembly of components or poor/lack of maintenance.
Video Testimonials & Reviews (Upload a video of our products in use and get free propeller(s). Twisters get one free prop. Longtails get 3 free props. Video must have Mud-Skipper in title, must show kit in water, in action and must be at least one minute long.)
Video Testimonials & Reviews (Upload a video of our products in use and get free propeller(s). Twisters get one free prop. Longtails get 3 free props. Video must have Mud-Skipper in title, must show kit in water, in action and must be at least one minute long.)
2:14
1:02
1:58
1:03
2:03
1:34
1:20
1:12