Details
NEW FEATURES - 5-7hp LONG TAIL KIT - Includes right hand AND left hand tiller option, additional roller bearing in PTO housing and new engine motor balance adjustment!
Introducing the Mud-Skipper 5-7HP Long Tail Motor Drive System
The Kit Includes:
85" Long Shaft and Nylon Greaseless Prop Bushing - with 4 Taiken Shaft bushings

PTO Housing now powder coated BLACK with Hardened "T" Style Wing Bolts

PTO Inner Shaft with new PTO roller bearing upgrade - Grade 5 Steel Bolts AND Key for Engine Mounting

Redesigned 4" Deep Transom Mount Clamp with hardened "T" Style Wing Bolts. Also, see our Transom Pad Kit!
Engine Mount Base with Grade 5 Nuts & Bolts - NOW with left hand and right hand steering and engine balance adjustment

Adjustable Tiller Handle

- Now Powder coated black!




2 Propellers - 6.25" & 6.5" Diameter.

Throttle Cable & Lever

Push Button & Tethered Safety Kill Switch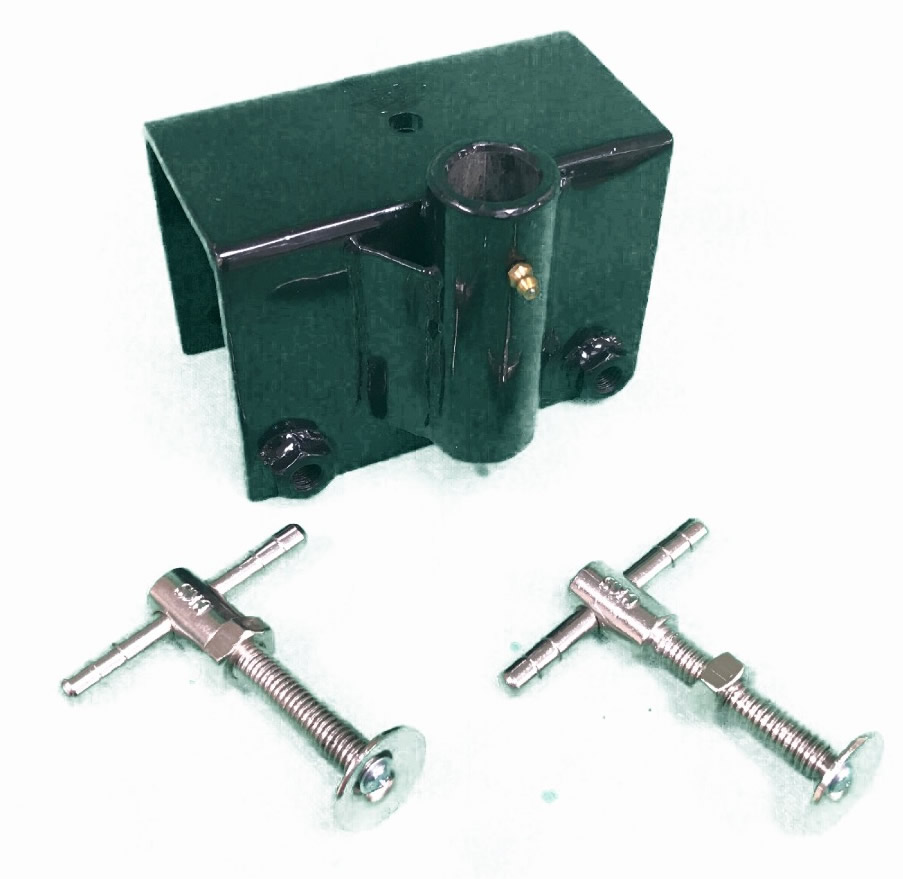 Newly Designed Transom Mount - Reinforced "T" Style Wing Bolts & Grease Zerk Fitting. Transom Mount is 4" Deep (A Full Inch Deeper Than The Competition)
The Engine Mount
The four bolt holes fit most engine bases up to 7hp. Right hand and left hand steering option. Engine balance adjustment allows engine movement on the base for fine tuning your kit!
Note the post on the engine base. This fits into the tube on the transom mount, allowing the engine to swivel in all directions
The PTO Shaft Connector
The PTO fits over the Engine Shaft and the Drive Shaft slots into it. Includes both screw and key mechanisms to lock into place.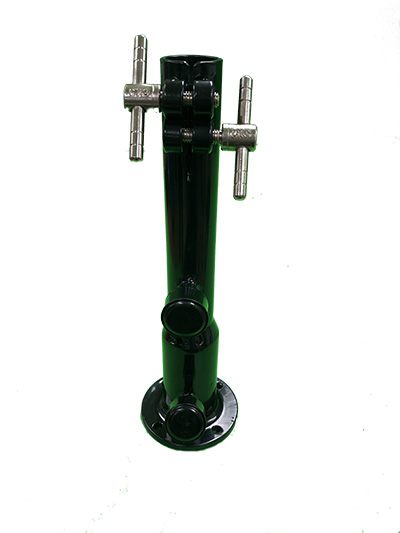 The Drive Housing

The housing is bolted over the engine's drive shaft. Includes NEW roller bearing.

All engines have the four bolt hole configuration. This kit utilizes a 3-5/8" Bolt Circle (3.625")

Please add the Mud-skipper 7hp Electric Start engine to your cart for an additional cost and we will ship everything you need to get right on the water! The kit also fits the following 3/4" Horizontal, Keyed Shaft Motors:
Harbor Freight 6.5hp - 212cc Predator

Honda 5.5hp & 6.5hp - GX160 & GX200 models

Home Depot 6.5hp Lifan - 196cc

Carroll Stream 5.5hp & 6.5hp

Briggs 208cc 3/4" Horizontal shaft model

Duromax 7hp

Kohler 6.5hp

Tecumseh 5.5hp OH195XA-71234

Many more.......
The Throttle Linkage Connections
Engine Requirements
3/4" Keyed, Horizontal Drive Shaft with 3-5/8" Bolt Circle (Holes 2.48" x 2.48" in a square)

Engine Mounting Bolt Holes - 3.125" x 6.375"

Engine Shaft - 3/4" Diameter Straight Keyed Shaft - Please select which size PTO at checkout!
Kill Switch Installation
What our customers are saying:
Clint F -- "I want to say I'm glad I didn't believe the hype and go with the s*s company although I'm from Florida, now in Texas.
I purchased your longtail 7 hp kit and although I customized it it's awesome.
No one has ever seen the like round here. I'm a commercial fisherman and I use this motor to collect and sell marsh baits.
Thank you mudskipper for saving me $$$."
Jeff C - "Just purchased your long tail mud motor and love it. I will be ordering the z bent steering arm for it soon. I stand while operating the boat and it will make the motor complete. Thanks again guys good job"
Limited Two Year Warranty:
If, within TWO years from the date of purchase your longtail mud-motor kit fails due to a defect in materials, or workmanship, we will repair or replace, at our discretion, any part that we determine to be defective in materials or workmanship, free of charge. If the product fails, the buyer must contact Mud-Skipper for an RMA prior to returning the product. Failed parts must be returned for inspection. Shipping expenses for any item submitted for repair or replacement under this warranty are the responsibility of the owner of the item. Mud-Skipper will provide return shipping of the repaired or replaced part to the customer via UPS, USPS parcel post, or other freight carrier of our choice (additional charges for expedited return shipping to the buyer is the responsibility of the buyer). This warranty does not cover damage due to impact, normal wear, excessive wear to the shaft or shaft bushings due to lack of lubrication, neglect, corrosion, lack of maintenance, modification to the product, or misuse. The customer will be responsible for the shipping costs of any item returned to them that is not covered under warranty. This warranty is provided to the original purchaser. Proof of original purchase is required on all warranties, exchanges, and returns. Electrical parts ARE covered under this warranty. Propellers ARE NOT covered under this warranty.
Video Testimonials & Reviews (Upload a video of our products in use and get free propeller(s). Twisters get one free prop. Longtails get 3 free props. Video must have Mud-Skipper in title, must show kit in water, in action and must be at least one minute long.)
Video Testimonials & Reviews (Upload a video of our products in use and get free propeller(s). Twisters get one free prop. Longtails get 3 free props. Video must have Mud-Skipper in title, must show kit in water, in action and must be at least one minute long.)