Details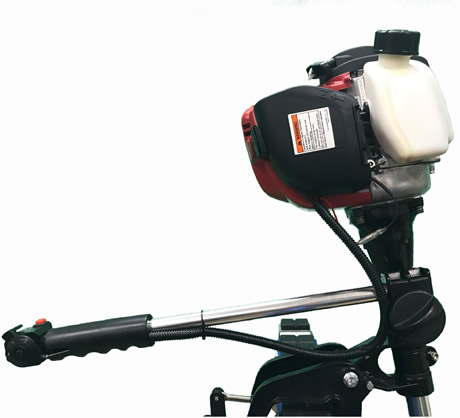 Using a Honda GX35 Engine, this outboard it ideal for a canoe or kayak. The 35cc engine and leg weigh less than 25lbs
Light weight makes it ideal for a 10 foot Jon Boat.

Ideal for a backup engine on a larger boat.

Weighs much less than any trolling motor and battery and has a much greater range than a battery.

Centrifugal clutch allows engine to idle without prop rotation.

Adjustable height fits any transom.

Honda GX35 T3
Mini 4-stroke OHC Vertical Engine
35cc
1.3 Net HP
4 stroke engine
Aluminum prop
Kill switch on handle
Air cooled engine - no water pump.

Fully assembled and ready to operate.



About the Honda engine
4-stroke - no fuel/oil mixing
Full 360° "any-side-up" operation - use and store in any position
Exclusive rotary-slinger lubrication system
The world's lightest OHC engine
Approximately half the operating cost of comparable 2-stroke enginesEfficient port configuration and large diameter valves maximize power output
Lighter, more rigid valve train
Carburetor equipped with accelerator pump for fast, easy acceleration
Precision engineered components result in lower vibration
Lighter piston minimizes vibration
Ball bearing supported crankshaft for greater stability
Roller bearing supported connecting rod
High quality materials, fit, and finish
Lifetime timing belt design
Integrated fuel system protection
Diaphragm carburetor
Easily accessible spark plug
Easy to drain and re-fill oil
No mixing of gas and oil
Exhaust decompression system
Unique low inertia design
CARB and EPA certified
No catalyst necessary
Special designs for horizontal and vertical applications available
Large capacity, multi-chamber exhaust system
Sophisticated air intake system
<!-- END VIDEO —>
Video Testimonials & Reviews (Upload a video of our products in use and get free propeller(s). Twisters get one free prop. Longtails get 3 free props. Video must have Mud-Skipper in title, must show kit in water, in action and must be at least one minute long.)
Video Testimonials & Reviews (Upload a video of our products in use and get free propeller(s). Twisters get one free prop. Longtails get 3 free props. Video must have Mud-Skipper in title, must show kit in water, in action and must be at least one minute long.)