Details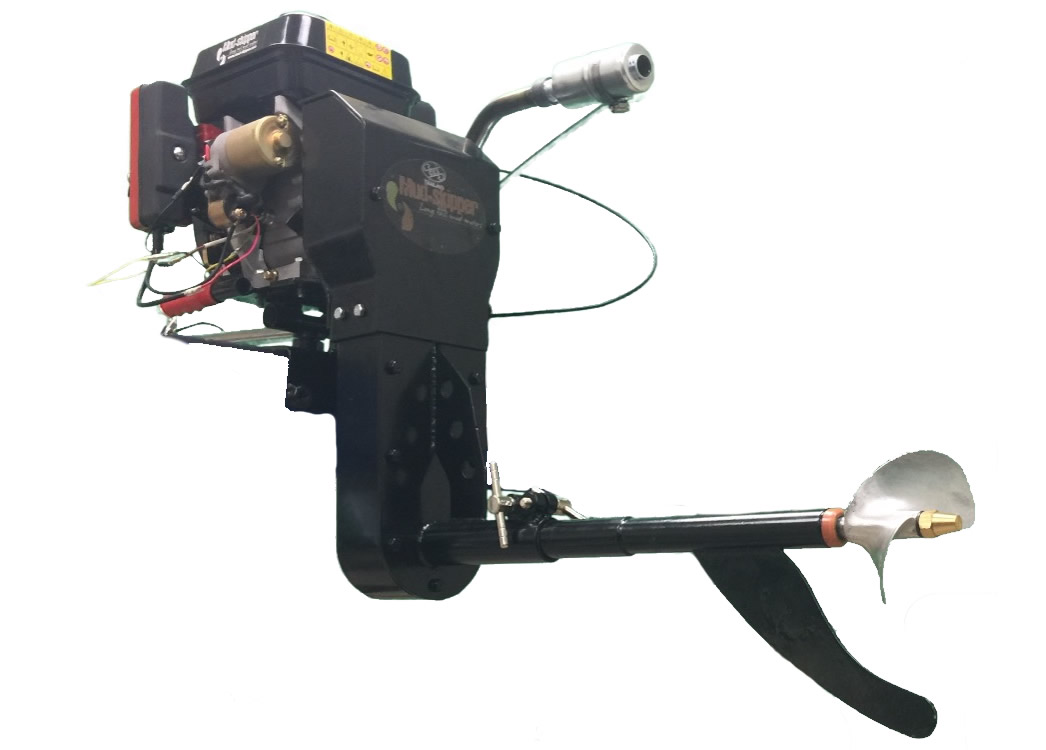 Here are a few of the features:
Triple strand roller chain. Triplex chains have 3 times the capacity of power transmission to that of a single chain.

Optimal for 15"-17" transoms
Heavy duty transom mount with hardened "T" style wing bolts
Grease zerk pre-installed on base pivot post
Reinforced steel housing, powder coated for added durability
Trim adjustment setting bolt holds the prop in a pre-set spot that makes driving easier

Greaseless bushings in tail require minimal maintenance
2 aluminum high speed propellers - High Speed Prop Number 0 and & 6.5" Standard Prop (High Speed Prop suited for lighter load and 6.5" for heavier loads)

Lever style, spring return throttle control
Tethered safety kill switch with push button off switch

Weight - 57lbs without engine, 99lbs with Mud-skipper 7hp Electric Start

Length (from engine to end of tail) 21"

Width - 8"

Overall height - 21-1/2"

Housing hangs down 11" from top of transom
The Mud-skipper 5-7hp Surface Drive kit is available for $730.00 with no engine. You may select the Mud-skipper 7hp Electric Start Engine during the checkout process which costs an additional $169.00
The 5-7hp Surface Drive Unit also fits the following 3/4" Horizontal, Keyed Shaft Motors:
Harbor Freight 6.5hp - 212cc Predator

Honda 5.5hp & 6.5hp - GX160 & GX200 models

Home Depot 6.5hp Lifan - 196cc

Carroll Stream 5.5hp & 6.5hp

Briggs 208cc 3/4" Horizontal shaft model

Duromax 7hp

Kohler 6.5hp

Tecumseh 5.5hp OH195XA-71234

Many more.......
Download The Installation Instructions
The unit has a one year warranty against defects from date of purchase. Propellers and electrical components are NOT warrantied. The unit may be returned for a full refund within 14 days of receipt if in NEW and UNUSED condition. (Gasoline engines from Mud-skipper have a limited warranty for 90 days). Buyer is responsible for return shipping.

Video Testimonials & Reviews (Upload a video of our products in use and get free propeller(s). Twisters get one free prop. Longtails get 3 free props. Video must have Mud-Skipper in title, must show kit in water, in action and must be at least one minute long.)
Video Testimonials & Reviews (Upload a video of our products in use and get free propeller(s). Twisters get one free prop. Longtails get 3 free props. Video must have Mud-Skipper in title, must show kit in water, in action and must be at least one minute long.)