Details
ORDER YOUR 7hp Mud-Skipper™ SURFACE DRIVE - FULLY ASSEMBLED - JUST ADD GAS AND GO!
We'll fully assemble our 7hp Electric Start Engine to the 5-7hp SURFACE DRIVE and ship directly to your door!
Service includes the following:
Full assembly of engine to surface drive and transom mount using grade 5 fasteners and lock nuts
Full assembly of throttle control mechanism
Hook up and test safety kill switch
Hook up and test electric start components
Add oil to engine and lubricate internal components of surface drive
Bolt on aftermarket exhaust (if selected during checkout)
Ships safely in a wooden crate by MOTOR FREIGHT ONLY.
(Due to shipping restrictions to hazardous goods we CANNOT include a battery for the electric start. Customers are advised to obtain a small lawn mower battery locally to allow the electric start feature to be fully operational)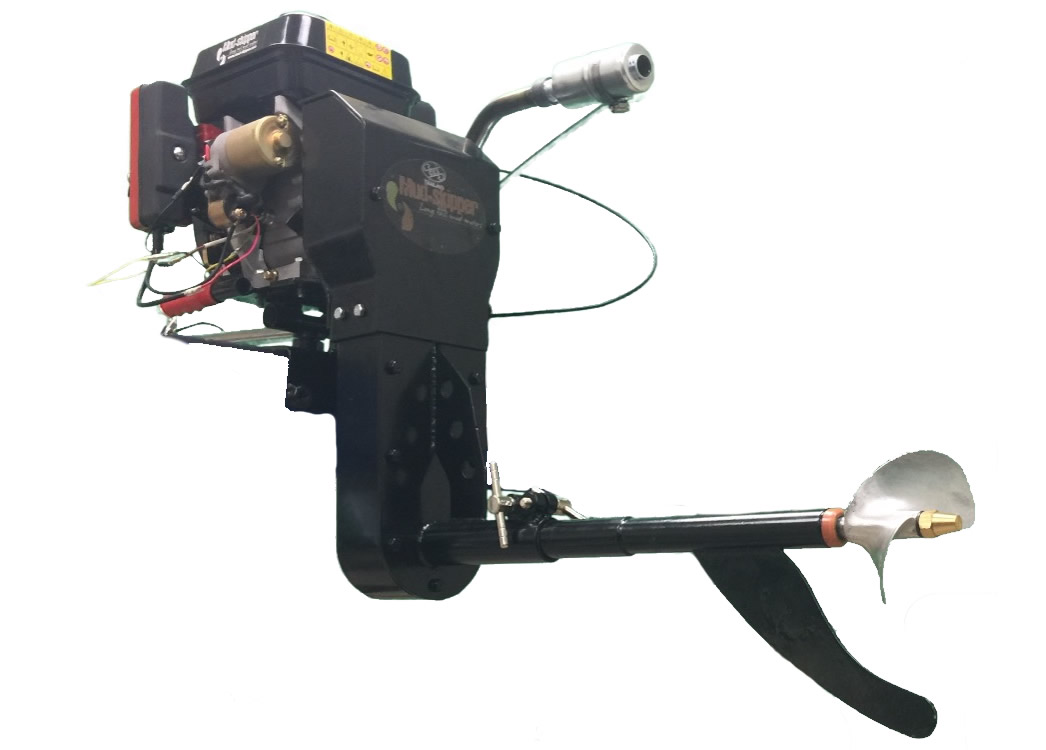 Here are a few of the features:
Triple strand roller chain. Triplex chains have 3 times the capacity of power transmission to that of a single chain.

Optimal for 15"-17" transoms
Heavy duty transom mount with hardened "T" style wing bolts
Grease zerk pre-installed on base pivot post
Reinforced steel housing, powder coated for added durability
Trim adjustment setting bolt holds the prop in a pre-set spot that makes driving easier

Greaseless bushings in tail require minimal maintenance
2 aluminum high speed propellers - High Speed Prop Number 0 and & 6.5" Standard Prop (High Speed Prop suited for lighter load and 6.5" for heavier loads)

Lever style, spring return throttle control
Tethered safety kill switch with push button off switch

Weight - 57lbs without engine, 99lbs with Mud-skipper 7hp Electric Start

Length (from engine to end of tail) 21"

Width - 8"

Overall height - 21-1/2"

Housing hangs down 11" from top of transom
Download The Installation Instructions
The unit has a one year warranty against defects from date of purchase. Propellers and electrical components are NOT warrantied. The unit may be returned for a full refund within 14 days of receipt if in NEW and UNUSED condition. (Gasoline engines from Mud-skipper have a limited warranty for 90 days). Buyer is responsible for return shipping.

Video Testimonials & Reviews (Upload a video of our products in use and get free propeller(s). Twisters get one free prop. Longtails get 3 free props. Video must have Mud-Skipper in title, must show kit in water, in action and must be at least one minute long.)
Video Testimonials & Reviews (Upload a video of our products in use and get free propeller(s). Twisters get one free prop. Longtails get 3 free props. Video must have Mud-Skipper in title, must show kit in water, in action and must be at least one minute long.)