Details
Modelled after our Twister line - we've developed an all new straight long tail for 5-7hp engines - coming in 2018!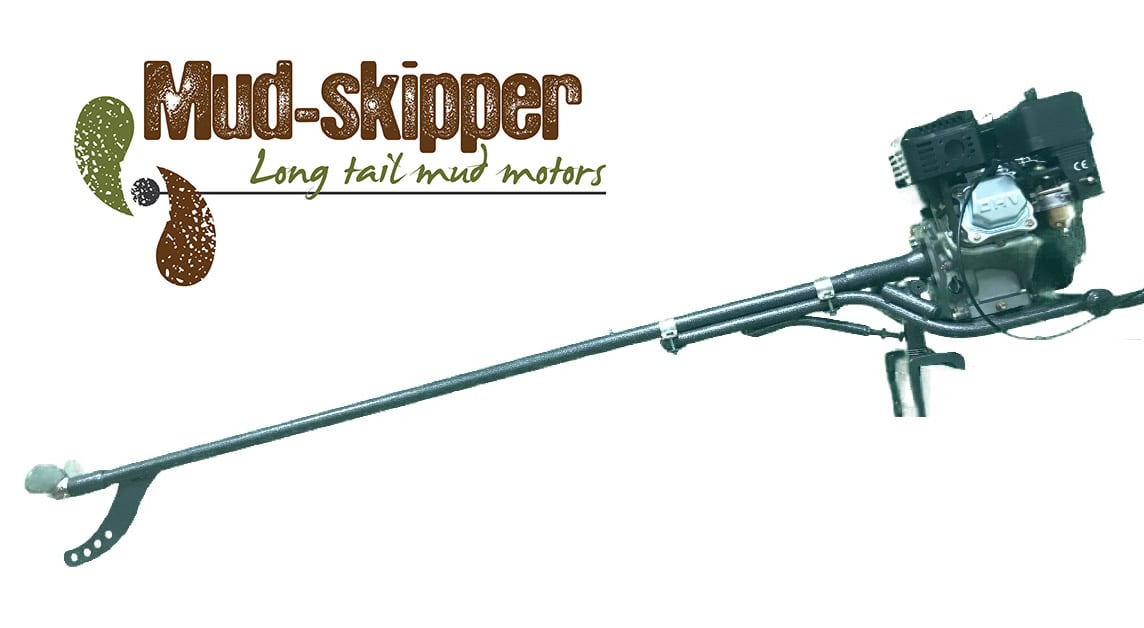 Fits most engines with 3/4" horizontal, keyed shaft - like the Mud-Skipper 7hp Electric Start

Weighs 42lbs w/o engine

Solid steel drive shaft

Sealed roller bearings incorporated into tail

Stainless steel 3 blade propeller

Reinforced Transom mount

Right hand and left hand drive

Multiple grease points

Redesigned Spring Return Twist grip throttle

Heavy duty Hammer Tone Powder Coating

Transom Pivot Bearing

Tethered Push Button Safety Kill Switch

Adjustable Tiller Handle

Adjustable Trim Stop

Overall Length - 109"

Tail length (from pivot back to prop) 69"

Tiller length 31"

No welding or fabrication - requires only basic hand tools

2 Year Warranty
Engine Base Hole Pattern - 6-3/8" x 3-1/8"
PTO Engine Bolt Hole Pattern - 3-5/8" Diameter (holes are 2.5" from each other in a square)
The Mud-Skipper 5-7hp Long Tail standalone base is $495 plus shipping. Please add the Mud-skipper 7hp Electric Start engine to your cart (Engine adds $169.00 to the total) and we will ship everything you need to get right on the water! The kit also fits the following 3/4" Horizontal, Keyed Shaft Motors
Harbor Freight 6.5hp - 212cc Predator
Honda 5.5hp & 6.5hp - GX160 & GX200 models
Home Depot 6.5hp Lifan - 196cc
Carroll Stream 5.5hp & 6.5hp
Briggs 208cc 3/4" Horizontal shaft model
Duromax 7hp
Kohler 6.5hp
Tecumseh 5.5hp OH195XA-71234
Many more.......
Video Testimonials & Reviews (Upload a video of our products in use and get free propeller(s). Twisters get one free prop. Longtails get 3 free props. Video must have Mud-Skipper in title, must show kit in water, in action and must be at least one minute long.)
Video Testimonials & Reviews (Upload a video of our products in use and get free propeller(s). Twisters get one free prop. Longtails get 3 free props. Video must have Mud-Skipper in title, must show kit in water, in action and must be at least one minute long.)